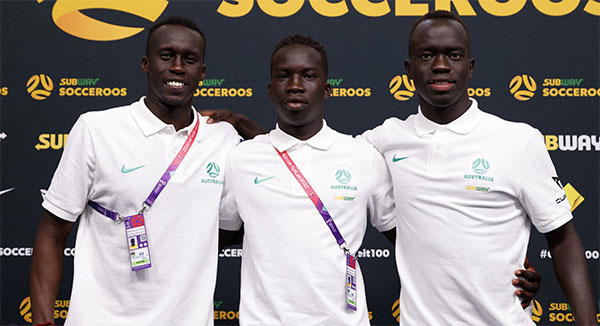 Australia's soccer team has always been synonymous with the country's migratory waves.
Now African-born Thomas Deng, Awer Mabil and Garang Kuol are proud to represent some of the newcomers at their first World Cup.
The trio, all born in refugee camps to South Sudanese parents, have endured an unusually tough road to get onto football's biggest stage.
Also read: Moses Simon and Finidi George 'fight' for Pepe's shirt after 4-0 defeat
They now hope their example will inspire others in Australia's African community.
"It drives us, it gives us the motivation to do better, especially having so many little kids looking up to us," defender Deng told reporters at the team's training camp on Friday.
"They see us as role models. We're just happy to be in this position to show them a path and show them that your dreams are possible as long as you work hard for them."
Life can be tough for African refugees in Australia and winger Mabil hopes the trio's presence in the squad will have a special impact on the youngsters.
"Sometimes it's easy to go down the wrong path, but … you can see people from your community representing such a country," Mabil said.
"I think it's something I wanted to see as a kid, someone from our community showing me that path. So for…
Vanguard, is a website edited by the Nigerian newspaper that bears the same name, where you can find news of various kinds, truthfully and fairly, intertwined in many sections for the reader's informative delight.