Total School Support Seminar/Exhibition 2015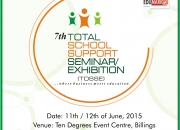 Data of ad
Published
18 of May

/ 09:11hs
Details of ads
TOSSE is Africa's leading education event for the promotion and development of learning and teaching. Since 2009, TOSSE has been a platform for stakeholders in the Education sector to access innovative products and services.

TOSSE provides an ideal platform for businesses to meet with key players in Africa's Education sector. Participants and exhibitors have an excellent opportunity to network and foster mutually rewarding business relationships.

Theme: Inspiring The Future
DATE: Thur. 11 - Fri. 12 June, 2015
VENUE: Ten Degrees Event Centre, Oregun, Lagos, Nigeria
TIME: 10:00 A.M. Daily

Why work harder when you can work smarter by exhibiting at TOSSE 2015? Thousands of educators across Africa are eager to see what you have on offer - say yes to your best opportunity of the year. TOSSE 2015 promises: An Expanded Market, A Renewed Drive and An Unprecedented Impact.